Meraki is introducing per-device licensing: an opt-in licensing model with exclusive, new features and enhanced flexibility. The mission of simplicity is real at Meraki – from their hardware, to their cloud-hosted dashboard, to even their licensing models. This was the intent behind cotermination licensing model (co-term): to create one simple expiration date for all devices in a given organization, and reduce the complexity of licensing for our customers.
While co-term does serve many customers as intended, but this licensing wasn't always a fit for every customer. For example, one simple expiration date didn't quite work for customers with complex budgeting processes.
To address this, Meraki has released the per-device licensing model, available to both new and existing customers. This model offers the ultimate flexibility for licensing and offers a suite of new, exclusive features not offered on our co-term model:
License Devices Individually: Assign a license to a specific device (MR, MS, MX, MV, MG) or a network (in the case of vMX and SM licenses) and maintain a shared expiration date or separate expiration dates across devices, networks, or organizations.
Partial Renewals: Enjoy the ability to renew all your devices or a subset of devices, as you prefer.
Move Licenses Between Orgs: Org Admins (Read/Write) on multiple organizations are able to move a license (or licenses & devices together) between those organizations without calling Meraki support. This functionality is available through the dashboard and APIs.
90 Day License Activation Window: You will have up to 90 days to claim and assign your licenses before they activate – giving you more lead time to deploy Meraki products.
APIs: APIs are available to claim, assign and move licenses. This will allow a greater level of automation and the ability to integrate with other systems.
Individual Device Shutdowns: If a license expires on a device, only that individual device or product will shut down (after the 30 grace period).
For more information about the per-device licensing model please refer to  Per-Device Licensing Overview documentation or this FAQ on Meraki licensing.
Watch this Meraki comprehensive Walkthrough
Still complicated? This is a simplified walkthrough over the new Meraki Per-Device Licensing Features & Capabilties.
If you are looking for quick deployment with full stack visibility you may be interested in a webinar about cloud networking from Cisco Meraki. Quite a few of my other customers rely on Meraki solutions with easy centralised cloud management of their entire wired and wireless networks.
Meraki webinars include a live demo of this cloud management platform and you get a free Meraki access point for attending, isn't it easy? If you do not have technical staff we think Meraki would be a good match for you. You can sign up for a upcoming Webinar.
The Cisco Meraki portfolio includes wireless access points, switches, security appliances, and mobile device management solutions. What sets Cisco Meraki apart is that all of these are centrally managed from the cloud. This makes them significantly easier to deploy and manage than traditional networks.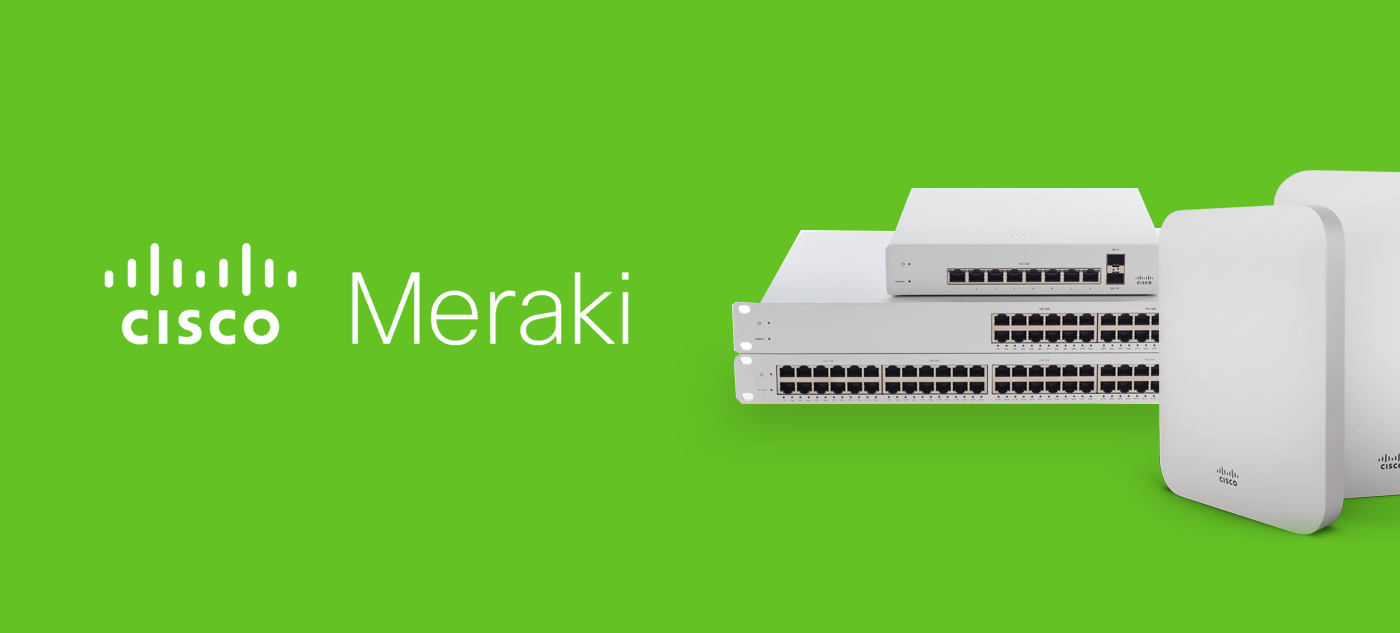 Boost your Business with Meraki Solutions
Meraki helps you to scale your business operations easily.