Wi-Fi 6 is expected to play a key role in the emergence and adoption of the new cellular wireless technology: 5G. 5G and Wi-Fi 6 will play a complementary role for enterprises, SPs and consumers and the interoperability and ease of hopping between wireless technologies.

The demands on wireless is resulting in the industry invest in next gen standards. Both 5G and Wi-Fi 6 are built off of the same foundation and will co-exist to support similar use cases. With 5G and Wi-Fi 6 being built off the same technical foundation, both technologies are very similar and will provide higher bandwidth, more capacity and lower latency. Unlike the previous generation of cellular and Wi-Fi technology (4G and 802.11ac), these 2 technologies are emerging like a perfect storm of wireless access.
The ultimate goal is to deliver value at the edge for users providing them the best mobile experience while connecting non-users addressing the explosion of IoT devices. With Wi-Fi 6, there are significant battery savings to be had – in the range of 3x more power efficiency. As a result, Wi-Fi 6 will have significantly faster device adoption compared to previous wifi generations.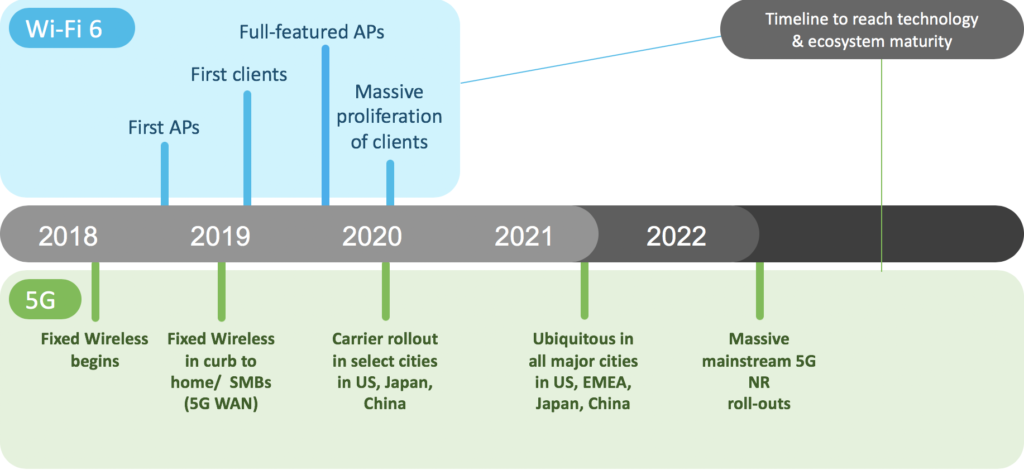 5G Adoption?
Adoption of these new standards requires an upgrade in infrastructures and devices. A 5G network is of little use if there are no 5G devices available. The same holds true for Wi-Fi 6. So we need to look at the planned rollout schedules for the network and devices.
Initially, 5G will focus on fixed wireless applications to service residential backhaul from home routers in high density urban or last mile rural areas. 5G devices such as smartphones may start emerging later in 2019. However, service providers may take many years to build out the counterpoint infrastructure to support them. Service Providers will likely start to offer 5G services in select urban cities around 2020. At this time, there may be a few client devices—primarily smartphones and a few laptops—that support 5G. As we move into 2021, ubiquitous 5G services will start in many big cities in the US, EMEAR, Japan, and China with a broader 5G client ecosystem coming shortly after in 2022. Massive 5G roll-outs with convergence radio systems will then be mainstream in 2023 and beyond.
Wi-Fi 6 appears to be on a faster rollout. Even though the standard has not been fully ratified, several vendors, have announced Wi-Fi 6 access points. Samsung has announced a Wi-Fi 6-capable smartphone and other major smartphone vendors are expected to follow suit in 2019. Using the transition to Wi-Fi 5 (802.11ac) as a reference, we expect users and enterprises to transition to the new standard over three years from 2019 to 2022.
Overlaying these timelines, enterprise networks will have transitioned to Wi-Fi 6 long before 5G becomes mainstream.
5G and Wi-Fi 6 will both offer High reliability, Low latency and Quality of Experience protection. However there are uses cases that be exclusive to each. And there will be some cross over as well.
Wi-Fi 6 is optimized for capacity and density where as 5G is optimized for coverage
Wi-Fi 6 Coverage:

The targeted applications for Wi-Fi 6 covers Carpeted Enterprise as well as retail, public venues and hotspots

5G Coverage:

5G is targeting Transportation and outdoor Outdoor urban & rural fixed wireless (alternative to fiber) as well as Private LTE/5G

The common applications include AR/VR and high bandwidth video as well as the explosion of IoT including Industrial and manufacturing.
From a data and ownership perspective, with 5G, the network and the data will be managed and owned by the carrier. With Wi-Fi 6, this will be owned by the entreprise entity that owns the network.
In this crossover area, the area of 5G as it applies to IoT, the 5G specs are still being defined. This is an important point to consider since it is expected that that new IoT clients that will need support 5G will require new hardware. With the specs still being ratified, these IoT clients are still at least 2 years out and will require new silicon/hardware.
As an example, a manufacturing plant has robots that work on mission-critical applications. With the higher-density and power savings enabled by Wi-Fi 6 programatically, we can connect more IoT devices throughout the plant. All these devices and robots can operate with high-performance connections that are secure and reliable.
Why customers need Wi-Fi 6?
Enterprise customers require to move the business forward while making it easier to manage, deploy and expand the network. The User experience requirement always on availability, having access to relevant content and an easy and secure method of onboarding.
Pxosys is the one company that can provide for both IT and the User by delivering a Constant Experience via Assurance and Automation for IT and a robust, always on reliability for Users. Effective Engagement is delivered for IT through location-based solutions and insights such as DNA Spaces which in turn, provides the user with relevant content. End to End Security is provided by DNA SD-Access and the unified identity based policy allowing the user an easy and secure method of onboarding whether they are on a wired or wireless network.
Conclusion
Wi-Fi continues to be a predominant technology for accessing the internet, with a strong history of success. Even at an early stage of the Wi-Fi 6 and 5G adoption, Wi-Fi 6 devices will enhance the user experience in both consumer and enterprise applications and will be particularly useful in homes, smart cars, businesses, e-Learning, IoT, stadiums, public venues, and transportation hubs. It will also support a range of use cases in these scenarios, including high-definition streaming, virtual reality, interactive HD and 4K video, asset tracking and sensors, and more efficient uploading and downloading capabilities.