Today's Hyperconverged Infrastructure Solutions Have Crucial Shortcomings and Hyperflex eliminates these:
New silos and complexity: Other competitors combine clusters of generic x86 servers with software-defined storage (SDS) to create a computing platform. While they simplify deployment and operation of cluster nodes, they don't incorporate the network. These spawn new islands of infrastructure and systems management, resulting in increased operational complexity for customers.
Inflexible scaling: First-generation solutions scale through a modular approach of fixed, pre-configured server nodes, often limited to rack server form factors that scale compute and store in fixed ratios. This approach is sufficient for applications that have uniform scaling requirements across all system resources. However, most enterprise applications and new classes of cloud-native workloads demand independent scaling of performance and capacity across compute, storage, and I/O instead.
Limited application support: Some hyperconverged solutions are limited to specific hypervisors and limited in performance, making them less ideal for enterprise applications and databases that need strong, consistent performance. The rise of application containers and the growing use of bare-metal applications demand hyperconverged infrastructure solutions that are flexible to enable customers to evolve their future workload environments.
Complete data lifecycle management and security: Many hyperconverged solutions don't offer the extensive data management lifecycle features and lack security and compliance required when distributing, migrating, and replicating data across storage environments.
Underwhelming performance: Because storage is virtualized and distributed across a cluster of servers, network connectivity between the nodes becomes essential to performance and resiliency. Many hyperconverged infrastructure solutions lack a high-performance fabric, SDN, or virtualized I/O capabilities.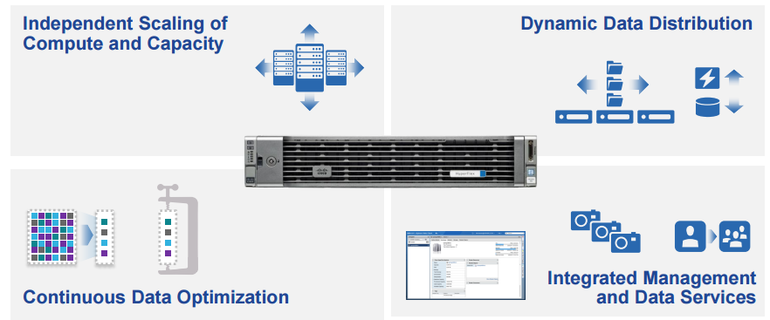 Why HyperFlex?
Cisco HyperFlex Systems with Intel Xeon Scalable processors deliver hyperconvergence with the power and simplicity for any application, on any cloud, and at any scale. Engineered on the Cisco Unified Computing System (Cisco UCS®), Cisco HyperFlex Systems deliver the agility, scalability, and pay-as-you-grow economics of the cloud with the benefits of on-premises infrastructure.
Power Any Application:
Multiple hypervisors support: VMware ESXi and Microsoft Hyper-V
Containers Volume Driver:The new FlexVolume driver enables persistent volumes to Kubernetes-managed containers
Enterprise Application Validations: Deploy a wide range of workloads with Cisco® Validated Designs, including Oracle, SAP, Microsoft, and Splunk
At Any Scale:
Greater scalability and resiliency: HyperFlex Systems provide higher virtual machine (VM) density than the competition and 64 node cluster scales with added resiliency in the automated availability zones
Stretch clusters: Cluster configurations for availability across geographies
Cloud-based deployment: Cisco Intersight for HyperFlex Systems Cloud Deployment
On Any Cloud: HyperFlex Systems Include Powerful New Service Integrations
Application Performance Monitoring: AppDynamics enables performance monitoring of hybrid apps running tiers on HyperFlex Systems and across clouds.
Application placement: Cisco Workload Optimization Manager (CWOM) analyzes workloads to assists with workload placement on HyperFlex Systems.
Cloud mobility: Cisco CloudCenter enables workload mobility onto HyperFlex Systems from public and private clouds, including private cloud self- service IaaS capabilities.
Next-Generation Hyperconverged Data Platform
The Cisco HyperFlex HX Data Platform is a purpose-built, high-performance distributed file system that delivers a wide range of enterprise-grade data management and optimization services and includes:
Independent scaling: Scale compute and storage separately.
Continuous data optimisation: Always-on inline data deduplication and inline compression provide highly efficient resource utilization, reducing overall IT footprint.
Simplified data management: Storage functionality is integrated into existing management tools, allowing instant provisioning, cloning, and snapshotting.
Dynamic data distribution: Incoming data is securely distributed and optimized across servers and storage tiers in the cluster, eliminating performance bottlenecks to achieve high I/O performance.
Deploying Cisco Hyperflex Two Click's
With Hyperconverge deployment, time is key! Cisco Hyperflex saves you vital time within managing your network.