Cisco Network Services Orchestrator or NSO is an industry leading software for automating services between local and virtual networks. You can utilise NSO to change add and delete services without causing disruption to others. This also ensures that services are delivered in real time.

Whtat's new in NSO 5?
What is new in NSO 5? Service Providers are now able to accelerate revenue-generating services through automation, self-service, and on-demand provisioning in even the largest multi-vendor networks at over 100 Thousand + devices.
Cisco NSO has now been around for 8 years, and it is active in over 100 large scale production networks all over the world. Introducing the 'NED' builder tool, enabling customers to create their own element drivers beyond the existing one thousand and seventy seven Non-Cisco Vendors. This allows for Cisco to connect more effectively across multi-vendor networks.
What's the real game with NSO?
Service Orchestration:
NSO orchestrates the life-cycle of network related service: development, deployment, and activation. Network Services Orchestrator allows you to: Create, modify, repair, and delete services on-demand.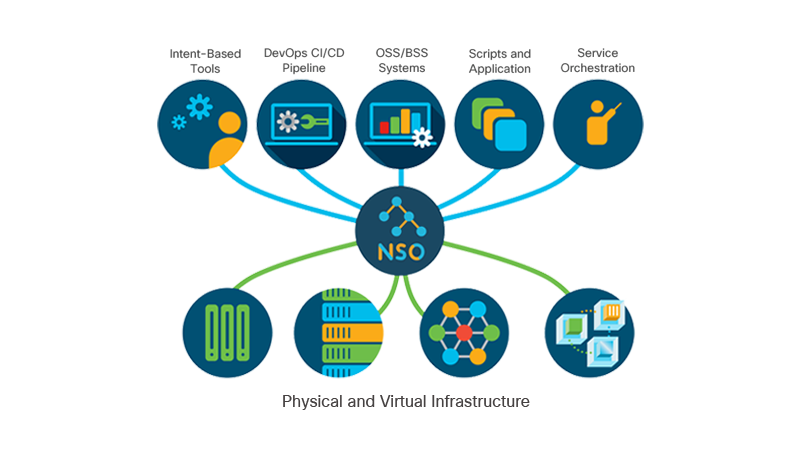 NFV Orchestration:
Orchestrate the life-cycle of a virtual service by creating, modifying, repairing and deleting virtualised services on customer demand, within minutes or seconds. Manage and configure the Virtual Network Function (VNF) that makes up the virtual service and how they are chained together. Control a VNF Manager such as Cisco Elastic Services Controller (ESC) and Virtual Infrastructure Managers (VIMs) including OpenStack and vSphere with the NFV Orchestrator (NFVO) NSO Package.
Device Management:
Network device turn up, configuration, and capability management is handled by an NSO on-board device manager. This lowers manual efforts in order to manage network elements and lowers the risk of errors. Cisco and third-party physical or virtual devices are managed through the device abstraction layer using NEDs (Network Element Drivers).
José Manuel de Arce, OSS Manager at Telefónica, shares his experience deploying Cisco NSO.
Configuration Audit, Network Policy Compliance:
Network Security Orchestrator ensures the network is correctly configured and device configurations adhere to network-wide rules. Utilising templates matching "golden configs" for various device types and roles, Network Security Orchestrator audits a device's most recent running config against a corresponding template – any deviations are flagged for correction.
Conclusion
Business is pushing IT to deliver faster without any disruption, therefore Cisco NSO provides you the full automation of your deployments on your infrastructure seamlessly becoming the first vendor agnostic of it's type. Baseline configuration is the foundation of Best Practises, it's important to maintain the consistency and lifecycle of all configurations keeping them up-to-date. Cisco NSO solution is ideal to orchestrate your environment, keeping the configurations compliance, easy to use and less error-prone.